Increasing efficiency (58%), digitalizing operations and introducing new technologies (50%), and saving on costs (47%) are the main goals Lithuania's companies are setting when planning their investments in IT in 2022. Only 4% of respondents do not plan any investments in IT in 2022, not counting IT maintenance costs. These are among the results of a survey of the IT needs of the businesses and organizations in the country commissioned by the Novian IT infrastructure and software services group.
IT decision-makers from a total of 200 mid-size and large companies in Lithuania – 150 from the private sector and 50 from the public sector – participated in the survey which the KOG Institute for Marketing and Communication Sciences conducted in November-December 2021.
"The survey has revealed some interesting trends for Lithuanian companies as they face and adapt to the pandemic period. On the one hand, investments in IT are focusing on fundamental needs to boost efficiency and reduce costs, while on the other, digitalization of operations is not being forgotten either. Looking at the priority areas, what stands out this year are plans to invest in workspace equipment, increase cybersecurity, and upgrade software, with digitization of documents and automation of processes also in the top five," said Evaldas Rėkus, the CEO of the Novian group.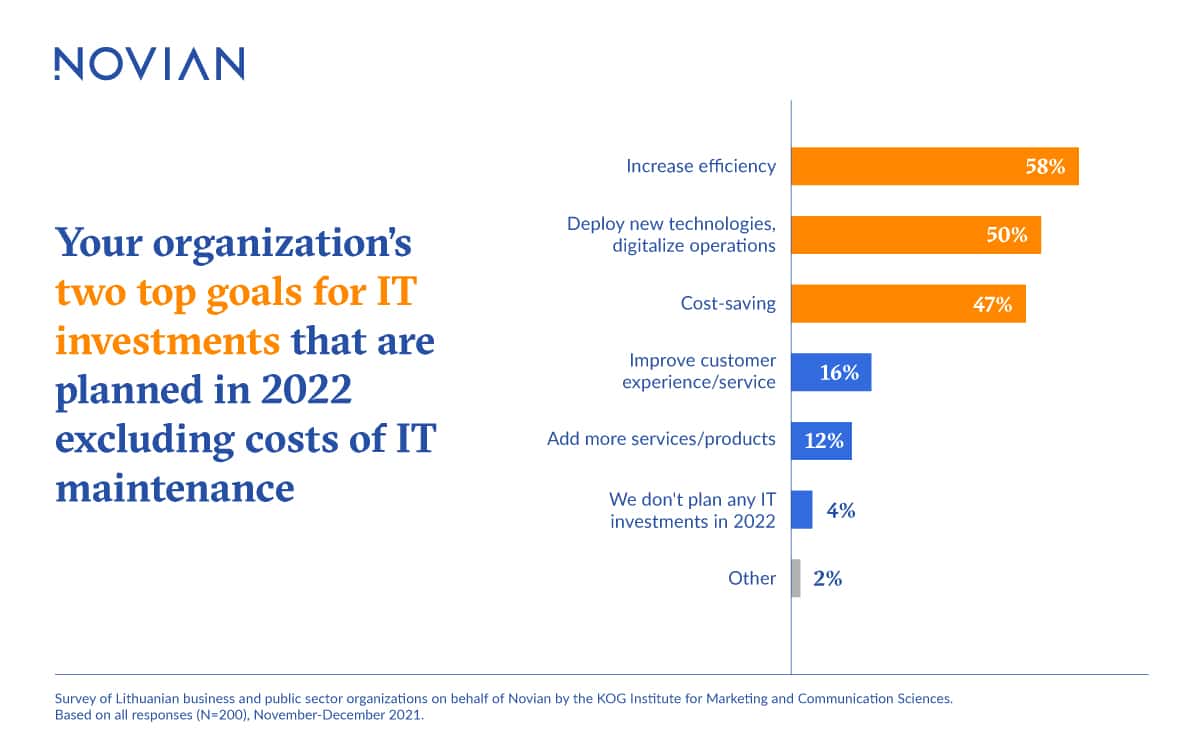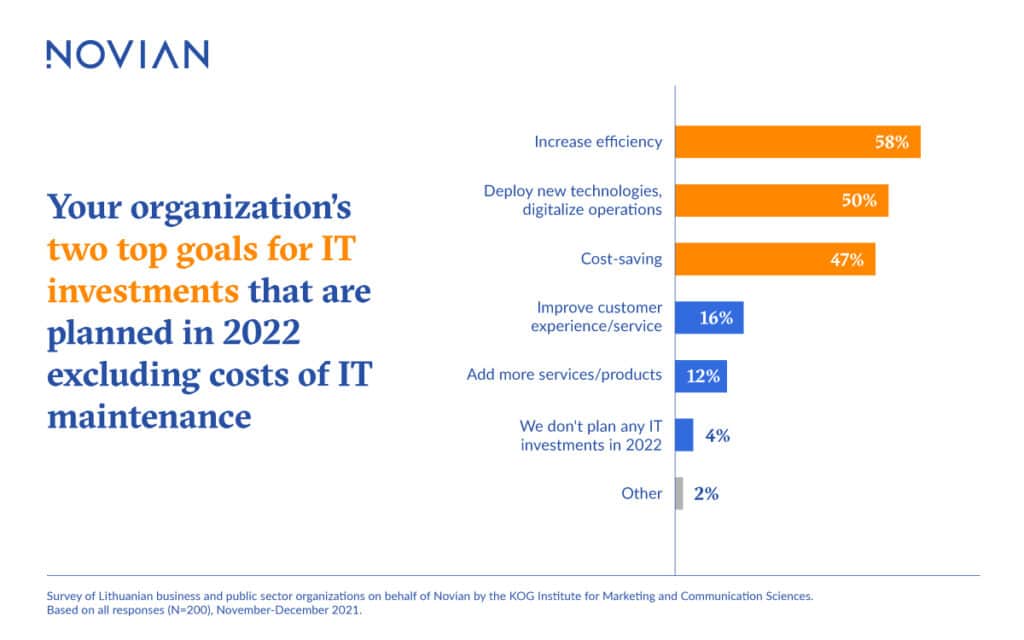 He said survey results like this show a steady broadening of the concept of digital transformation in the country to cover not just basic functions like software development and IT infrastructure deployment and maintenance, but also document digitization, business process automation and data analytics applications.
"That's also leading to a broader view of data. As more and more areas are digitalized, the need to "empower" data, or put it to work, is becoming increasingly relevant. Meanwhile, companies' investment plans are also being dictated by the pandemic situation, with remote or hybrid workspaces becoming the new standard," the group's CEO said.
Renewal of workspace equipment
The survey showed that most often organizations intend to allocate the planned IT investments in 2022 into to workspace equipment: 6 of 10 organizations plan to invest in computers and related equipment. That is most in focus in companies with between 50 and 99 employees.
This year 2 organization in 5 plan to invest in increasing cybersecurity, and one-third in upgrading software. More than one-fourth of organizations plan to digitize documents and automate or robotize business processes.
"Digitalization can help both to ensure growth is efficient and to make data-based decisions and automate processes," Evaldas Rėkus said.
According to the survey, investments in business process automation and robotization and in increasing cybersecurity are notably more relevant in 2022 for industrial manufacturers and less relevant for public sector companies and those working in education.
Systems compatibility is key
According to the survey, in carrying out IT projects, 7 out of 10 organizations cite two aspects as most important: compatibility with existing IT systems (71%) and a project's price (68%). The price of a project, by the way, is more relevant for public sector companies and less important for large companies.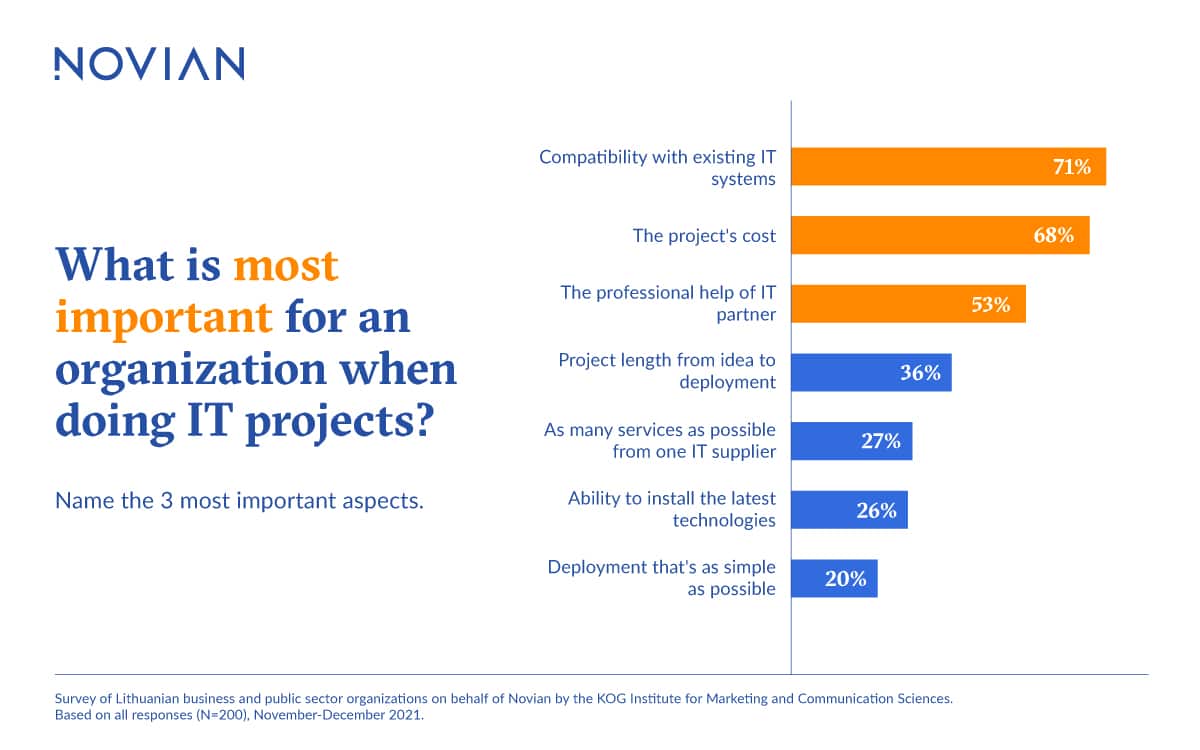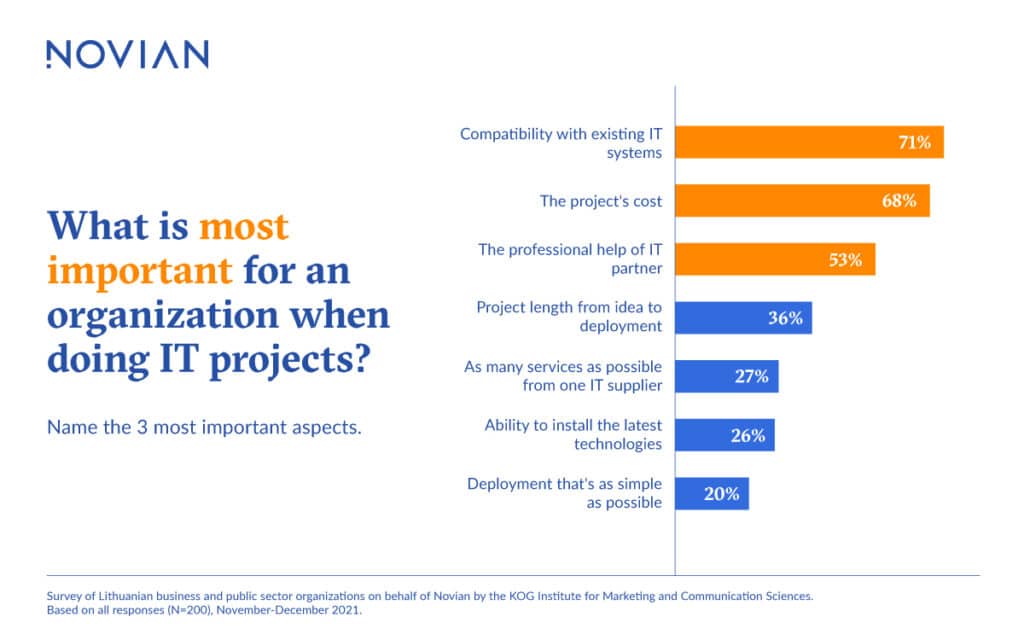 Rated third in importance was the professional assistance of an IT partner, something every second survey participant (53%) specified. More than a third of organizations included among the most important aspects of conducting IT projects the implementation time from idea to deployment, and over one-fourth listed the ability to introduce the latest technologies and get as many services as possible from a single IT provider.
Rėkus noted that these results show the rationality of IT purchasing: "There's no headlong rush to introduce the latest technologies, rather efforts are being made to apply and adapt innovations to the information systems currently in use and the existing IT infrastructure."
He said the Novian group's companies are seeing the same trends. "Currently we see organizations have a need to harmonize their existing IT set-up with its rapid development in such a way as to get results without a long wait while not disrupting the work of existing systems.
One of the most flexible approaches here is to use microservice architecture and DevOps practices. The Novian group's companies have experience replacing existing IT technologies with more advanced ones in small steps, so that the organization is able to operate more efficiently and flexibly and also to react more quickly to changes in the environment," the CEO explained.
IT projects expected to be fast
The organizations that took part in the survey also specified how much time it should take to deploy a digital project, from initial coordination of the work to when they can start using it.
Most often, companies would like such projects to take 3 months or 6 months. Those periods were chosen by 23% and 22% of survey participants respectively. Nearly another fifth of respondents (19%) said projects should be completed within a month or less, while 7% said within a year, and 16% said time is not important.
"In summary, it can be said that organizations are most keen on rather fast projects. One way to speed projects up is using low-code solutions, while smooth implementation can be ensured by coordinating the programming and IT infrastructure needs – which the Novian group's companies offer too," the group's top manager said.
Since 2020, the Novian group's companies have combined forces and provide client organizations with overall IT solutions tailored to their specific needs – from rapid automation with low-code solutions and servicing of computerized workspaces to developing information systems for specific fields, digitizing documents, and building and maintening IT infrastructure. The group's companies also implement digital transformation, artificial intelligence, cloud computing, supercomputer (HPC), and other relevant solutions.
Note: Use of data from the Novian survey must include a link to survey source.